Insurance News (the magazine)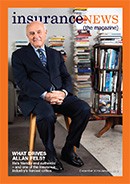 DEC 2018 / JAN 2019
Allan Fels, the monitor of NSW's non-existent emergency services levy change and primary foe of the insurance industry, is stirring up insurers again. Believing in the principle of knowing your enemy, Insurance News magazine interviewed the industry's most strident critic for its December edition. He might just surprise you.
Insurance News has also interviewed QBE's Vivek Bhatia about his drive for "everyday brilliance", we've asked industry leaders about the five issues that keep them awake at night and we report on growing support for tackling global warming.
The edition also features our annual favourites – the 20 most influential people and organisations in the insurance industry, and our picks for the best insurance TV ads of the past year.
OCT/NOV 2018 - Insurance News (the magazine)

We speak to Swiss Re's global chief economist, examine how insurers' caution is making life tough for former lawbreakers trying to get into business, look at how climate change is making windstorms stronger, and talk to AIG about its embrace of blockchain technology.

A new survey has found the insurance industry can do a lot more when it comes to promoting diversity and inclusion in the workplace.

The hardening market has come at a good time for the three leading insurers. This edition sees them emerging from hard times energised and ready to take on new challenges, and we've tracked the industry-wide effects as rate rises kick in.

AUG/SEP 2018 - Insurance News (the magazine)

Meet new insurers and new CEOs and check the pulse of a very busy insurance industry in Insurance News (the magazine).

Can we afford class actions? We've investigated moves to get things back in balance. And we show how insurers are reshaping their investment portfolios in the face of environmental and social challenges.

The big issue right now is diversity and inclusion, and we feature the views of industry leaders that range from "we're making progress" to "it's time to bring in quotas to speed up change".

AIG is a global giant, but it's a lot leaner and nimble than it once was. Leading the drive to transform the American group's 75 international operations is former Australian CEO Chris Townsend. If you want to know what's going on in the wider insurance world, don't miss our interview in Insurance News (the magazine) this month.

JUN/JUL 2018 - Insurance News (the magazine)

We visit a leading insurer that has four women on its nine-person board and the most flexible and inclusive personnel policies you'll find anywhere. You can also meet a marketing heavyweight who's a key part of IAG's drive to change the way people interact with their insurer.

We've also interviewed a broking leader with a bold vision for the industry and intermediaries. Will the term "broker" survive? Will insurance become just one of a range of ways to control risk? He sees the industry completely changed by the early 2020s.

James Shipton, the new Chairman of the Australian Securities and Investments Commission, says financial services – which includes general insurance – has lost its way by focusing solely on profit and must now learn to "do the right thing".

The June edition of Insurance News (the magazine) looks at Mr Shipton's crusade and the add-on impact of the royal commission investigating misbehaviour, to find out what it may all mean for insurance.

APR/MAY 2018 - Insurance News (the magazine)

Meet leaders and thinkers from across the industry, check out the social scene and gather so much more from Insurance News (the magazine) – the industry's largest and most popular news publication.

You can also read about how the major local insurers are looking again at their growth strategies, how Lloyd's is dragging its brokers and underwriters into the present and why SME buying habits are becoming more complex.

We also feature Financial Services Minister Kelly O'Dwyer's views on everything from insurance in northern Australia to the industry's place in the economy.

And we look at the changing legal landscape in insurance, and how law firms are adapting to new challenges.


FEB/MAR 2018 - Insurance News (the magazine)

We interview the new CEO of Allianz Australia, Richard Feledy, who wants to listen to staff before he starts strategising. There are plenty of views on emerging risks, commentary on the upcoming royal commission and NIBA's concerns about the need to focus on standards of conduct.

We examine the future of autonomous cargo ships that will be plying the oceans in the future, show how collaboration has become important in the "digital insurgency", ask some hard questions about insurtech, and highlight how black lung disease has returned to the coal mining industry.

We look at the immediate future for insurers as premium rates continue moving up and why the insurance industry took it on the chin and when consumers and ASIC attacked add-on automotive insurance.

The Federal Government's response to a Senate inquiry into the insurance industry has shone a spotlight on the need for new approaches to make it easier for consumers to compare policies. But making it happen isn't necessarily as easy as it might seem.